CARING - RESPECT - GRATITUDE
OUR MISSION STATEMENT
Improving lives and circumstances by guiding you from where you are to where you want to be.
The Clark Group is a highly respected real estate team in their market - one that fully embraces a customer-first approach. The team is committed to elevating relationship-building to the forefront of every client interaction. Shaped by the core values of Caring, Respect, and Gratitude, The Clark Group has served hundreds of buyers and sellers in the Greater Columbus Ohio area since 2002. The Clark Group closed nearly 200 transactions and over $42 million in 2019.
CORE VALUES
C - Caring - we take CARE of our clients and operate with CARE in our daily business
R - Respect - we show RESPECT to our clients & business associates
G - Gratitude - we are GRATEFUL for our team, our business and our clients
Mallory is a 3rd generation REALTOR & Real Estate Consultant for The Clark Group. She is a top-selling Buyer Specialist and Listing Partner on the team. Mallory brings youth, energy, enthusiasm and a problem-solving mindset to her career as a REALTOR. She is committed to providing top-notch advocacy to all of her buyers and sellers. Mallory has special expertise working with residential investors and first time home buyers.
As part of the REALOGY family of companies, The Clark Group/ERA brings the power of an INTERNATIONAL BRAND with a BOUTIQUE level of service to our clients. ERA Real Solutions Realty has offices located in the Columbus and Cincinnati, Ohio areas. ERA Real Solutions is ranked in the Top 15 ERA Brokerages in the Nation.
Client Reviews & Recommendations:
"This team is incredible to work with! Professional, friendly, knowledgeable...I could go on and on. Their level of attentiveness to detail is unmatched, right down to where they place the for sale sign in your yard. Everyone plays their part and does it so well, put together the entire group is a well-oiled machine. Over the years our agent has become our friend and we can't imagine going through this with anyone but her, she makes it so smooth and easy. If you haven't used Clark Realty Group yet you don't know what you're missing, they really are the best in the business."
"I thoroughly enjoyed having Mallory as our real estate agent. She was readily available to show us a home (in a seller's market we couldn't wait too long on anything) and I really liked the auto notifications she would send when a brand new listing in my target area/price range became available. She's very on top of the paperwork too which is a huge plus. I highly recommend her!"
"Mallory was a great help finding my first home this summer. She is always quick to get walkthrus scheduled and was very patient with my two-year-old son. She has great contacts for financing and inspection. She got the sellers to agree to install a radon pump and buy homeowners insurance which I ended up using. It was intimidating seeing all the other potential buyers in the market show up to open houses but Mallory got me into my dream home! Love love love our new house! I definitely recommend her to anyone looking in this tough buyers market!"
"Mallory was awesome. She found exactly what we were looking for and was quite the multitasker as she was getting married at the same time. She made sure we were taken care of while she was gone. When she got back she made sure the closing process went as smooth as possible. We'll definitely request her again for our next home!"
"I worked with Mallory for almost two years trying to find the right home for me. Mallory was patient and incredibly helpful. There wasn't a time I could not get a hold of her and if I could not she would call me back within the hour. The best thing about working with Mallory is her expertise on winning the bid and getting the best deal. Mallory always did what was in my best interest. I highly recommend her and if I decide to sell or buy again there is no doubt that I wouldn't use her again."
"Mallory went above and beyond in helping us find our new home. She drove all over searching for the perfect house and in some cases drove there twice. When it came time to place a bid she helped us turn in the contract and on a Sunday afternoon no less. Many thanks to Mallory for all her hard work. Thanks!"
"Mallory helped me to relocate my family to Central Ohio in a friendly and professional manner. She provided me with school and community information so that I could make an informed decision. Once we located the area, she was aggressive in finding homes within our price range and specifications. She even helped us to find an inspector and to get the loan processed quickly. I will definitely recommend Mallory to anyone I know and will use her again if we move within her area!"
"Mallory Clark: Excellent service, Always responsive to requests, Very patient with our search, Kept us informed, and Always pleasant. We never felt we inconvenienced her with our time & requests for showings. Great person to say was involved in our life."
"Mallory was by far the best Realtor I have ever had the privilege of working with. She was always available for us when we had questions and never made us feel dumb for them. She had several showings in our area and price range and made sure she kept looking when we were interested. She worked well with us on our right to remedy (things we'd like fixed before we purchased the home) and she made sure we were taken care of all the way around. I would recommend her to anyone! If you are looking for someone who is trustworthy, works hard for you, and someone to find exactly what you want Mallory and ERA Real Solutions is who you want to contact!"
"Mallory Clark was an EXCELLENT buying agent for us! She was professional, friendly, and extremely knowledgeable. She was always prepared and helped us find the perfect first house! Thanks so much Mallory!" - Russ & Emily J
"I wanted to commend, Mallory Clark, on the excellent service she provided as our Realtor for our recent home purchase. We were first-time homebuyers and was very empathetic to our questions and extremely knowledgeable. She really went the extra mile to ensure we found the perfect home and we appreciated the efforts she made even "after" our home closed. She made us feel like family instead of a business transaction and that is a very rare quality these days. Her vibrant and friendly personality was a blessing when home buying can be very stressful. Thank you, Mallory Clark, for your assistance and achieving our dreams and making it a smooth process." - Ashley H
"Mallory went beyond making my first home buying experience stress free. She was very knowledgeable on the special details of buying a home that I was not aware of. Ex: structures, mold, & inspections. Not to mention how punctual to appointments. She was always available and quick to answer my questions. Mallory exudes professionalism with her craft of customer service and realty expertise." - Kande P
Awards & Designations
- Top 20 REALTOR in the Columbus - Central Ohio
- CBR Multi-Million Dollar Producer
- ERA Leader's Circle
- ERA Jim Jackson Memorial Award for 1st in Service
- OAR Pinnacle of Performance
- ERA Seller's Security Plan Certified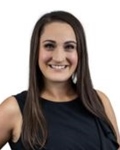 Mallory Clark Watson
Real Estate Consultant
The Clark Group @ ERA Real Solutions Realty


168 South State Street




Westerville

,

OH

43081


Phone:

614-882-7653


Fax:

614-635-3628